Turning Back Time with Train Sim World 2's Spirit of Steam on PS5, PS4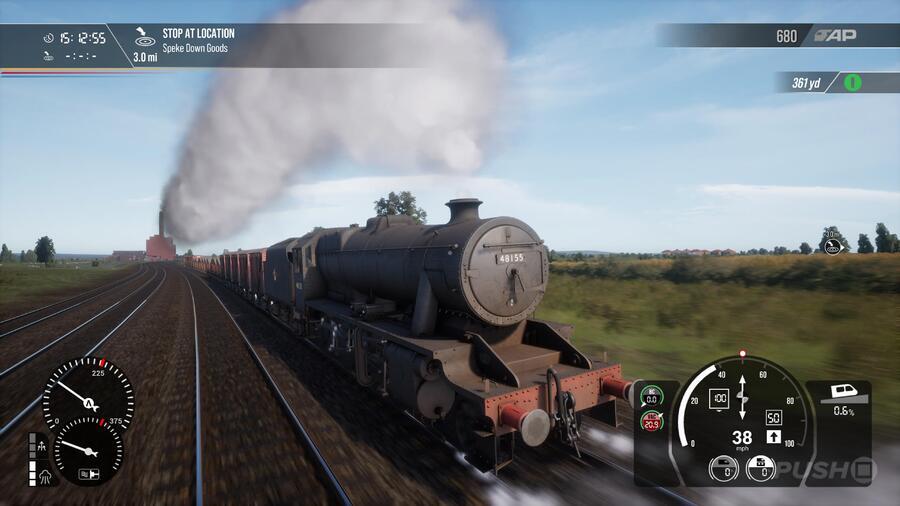 In the aftermath of the Train Sim World 3 announcement this week, this rail head couldn't resist returning to Train Sim World 2 for one last relaxing trip on the tracks – and Spirit of Steam was always going to be our destination. In truth, readers, Dovetail Games was kind enough to hook yours truly up with a code when it released weeks ago, but this is the first real opportunity we've had to test it.
It's still timely content, of course, because Train Sim World 3's Deluxe Edition will come with an extended version of the expansion – and it'll be available as part of a cheaper Starter Pack option as well. The route is particularly relevant because it's the first time the developer has tackled steam engines – a pretty important part of rail history.
It depicts the 58km trail of rail between Liverpool and Crewe, but interestingly is period appropriate, and is set in the late 1950s. It's something that Dovetail Games has done before in the original Train Sim World, but this feels much better realised – the opening tutorial cutscene is even depicted in black-and-white, before gradually fading to full colour.
There are two trains to commandeer: the freight-based Stanier Class 8F and the passenger LMS Jubilee Class. Both were originally built in the mid-1930s, and even if you know nothing about trains, you'll be familiar with their distinctive cylindrical design: think Thomas the Tank Engine and you'll be on the right track. [Pun intended – Ed]
As these are steam trains, you're really going to have to relearn everything you know about train operation. The driver's cockpit is effectively a furnace, furnished with all kinds of copper piping and other steampunk-esque paraphernalia. While you won't have to manually shovel coal yourself, you will have to deal with ejectors and brake vacuums which create a unique challenge.
The sound in this DLC is particularly impressive, as you can hear the scratching of your associate's shovel as he powers the locomotive, and the chug of the wheels down below. The camera work is also impressive from a first-person perspective: despite moving much slower than some of the modern marvels found elsewhere in Train Sim World, you get a serious sense of speed from all the bobble of this retro rail.
We'd be remiss not to mention all the time period appropriate scenery. While there are only 15 stops, and you'll spend much of your journey coursing through the Cheshire countryside, we really enjoyed details like the classic signalling system and all the old signal boxes along the way. Some of the stations look really beautiful, too, with passengers dressed in clothing representative of the era.
Of course, there's a full timetable to explore, as well as a handful of scenarios – one of which sees you relaying information between station masters about an escaped cow. There were no iPhones in 1958, after all! As with any other Train Sim World 2 expansion, you can also import and drive the train on any other route, which is always entertaining.
With Train Sim World 3 less than a month away, you're probably not planning to pick up any more DLC for Train Sim World 2. But if you don't own Spirit of Steam yet, we'd recommend it – either in the Deluxe Edition if you want to splash out, or as part of one of the Starter Packs for the new game. It's got a different flavour to the other content available, and being the developer's first attempt at steam trains, you can tell an extra layer of love and care has gone into it.
---
Have you tested out any of the steam trains in Train Sim World 2? Do you think Dovetail Games did a good job with this period appropriate expansion? Pull the whistle in the comments section below.